Would you like to…
Improve the reading skills and performance level of all the children in your class regardless of their learning style?
Manage your classroom more effectively?
Reach children with hidden learning disabilities before they fall behind?
Use research-based methods that are flexible and easily fit into and enhance any existing curriculum?
Our interactive workshop for primary (K-3) teachers and support personnel provides unique and innovative strategies for improving reading instruction and classroom management.
A set of learning strategies promoting self-regulating behaviors
Visual-kinesthetic approaches matching children's developmental levels
Strategies challenging the needs of all learners within a classroom
Strategies that complement any curriculum already in place
Project-based learning for students
Detailed instructions appropriate for Response to Intervention (RTI) needs
Workshop Instruction:
Theory supporting strategies and instruction with related research
Video vignettes of implementing strategies
Supervised experiential practice of strategies with follow-up discussion
Verfication of Attendance Certificate
Teacher Workshop Kit Provided: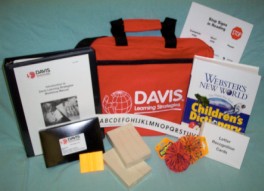 3-Ring binder detailing all strategies and steps for implementation
Supplies: alphabet strip, letter recognition cards, Stop Signs in Reading chart, Webster's New Children's Dictionary, 2 koosh balls, 2 lbs. clay, clay cutter
Soft-side brief case to hold above materials